When a company size grows, the IT environment inevitably becomes more complex as well to cater the business technology needs. The company will need to increase funding on business software, analytics, skills, security and infrastructure to ensure a smooth operating business process and digital transactions.
Smaller business has limited workforce and customers, sharing of data and communication across can be simple and easier to manage. However, when the size is multiplied by much complex process and documents handling, leveraging on technology such as automation is difficult to avoid. IT and business leaders still have to manage the company operations, weighing communication between clients and employees effectively requires an easy-to-use platform. For example, Microsoft 365 and Zoho Workplace to keep email communication and file sharing seamless, but yet secured to protect the company data assets.
IT spending for a company is one of the critical expenses of the company's annual budget. Sometimes, it determined how well the company responds to the fast-changing business world, threats and disaster. IT is an investment that improves the business operation which forms your company's competitive edge, and should not be viewed as a burden.
But, always the big question is, how much budget should be allocated for IT?
There are getting too many components in a company's IT environment, such as network security, email hosting, servers, infrastructure, business application, websites, payment gateway and more have to be upkeep to drive the business. Therefore, careful and tactful spending is mandatory to justify the returns because spending more may not necessarily effective.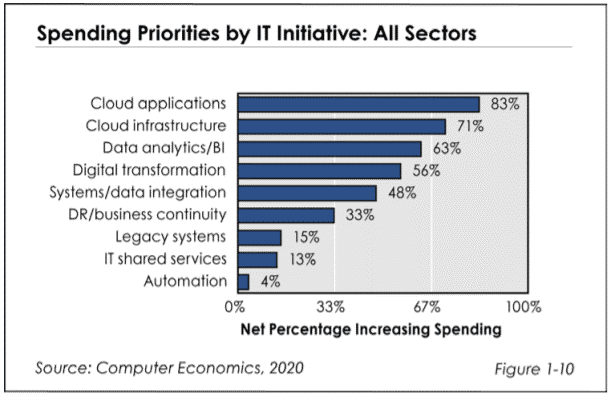 In a study by The Computer Economics IT Spending and Staffing Benchmarks for 2020/2021, most companies spent a big part of their budget on areas like data analytics, digital transformation, which is the driver needed for business expansion.
But be careful though, as according to a report from Forbes, among the 997 companies they have studies, over 30% of their IT spending are wasted on cloud services.
We are not saying cloud services do not offer ROI. In fact, Cloud is very effective in terms of resource planning and from security point of view. However, this requires detail study how the Cloud service can integrate with their existing operation. Many companies dive into this without a proper study beforehand, simply because it looks "sexy" in the eyes of the investor.
How much is considered the right budget?
There is really no one size fits all for IT budgeting. Because it depends on the company's operational size, types of industry and business challenges. But, one of the key metric used by most corporates is to calculate their IT spending as a percentage of revenue.
Here's a list of average IT spending according to different industry:
We can obviously see that the IT spending for a company depends how much the company relies on IT in their business operation. Unsurprisingly, tech companies spend the most on their IT budget.
The statistics above are not meant to represent every company in the respective industry, but to serve as a referral point.
Spend Right is more important than Spend More
It is important to keep in mind that these numbers are mere referral point for you to get an idea how to control your IT budget. Spending 6% of your company revenue in IT budget doesn't mean you are better than those spending 3% if it is not spent correctly.
In order to produce an effective and reliable IT budget, company should go through a detail assessment phase to review their infrastructure and related system from the different perspective.
While IT department should be the one driving this exercise, it is also wise to include users from different department to be involved in the IT risk and business continuity assessment. After all, the IT spending will also reflect directly on these users' productivity.
Finding a trusted IT Consulting Firm to guide this process is also a good idea, as they can provide an unbiased assessment on a holistic level.